THE ELISE BOX
SMALL IS BEAUTIFUL!
and… transparent
100% Belgian, artisanal and sustainable chocolate
Tight – Transparent – Recyclable
Confiserie Elise launches a range of 10 chocolate products in a small box
of "only" 150 gr, as it were "mini-portions". Packed in an outer box of 16 boxes (2.5 kg)
Tastings for the difficult moments. Small portions at favorable prices.
A box of comfort, to share or not…
Everything nicely packaged in transparent and 100% recyclable packaging.
You get what you see. No misleading images.
And made with 100% sustainable and 100% Belgian chocolate.
Top quality with respect for the supply chain and with a fair wage for the cocoa farmer.
WHICH BOXES OF 150gr?
"A wide offer"
10 manons
Kriek pralines with real kriek and liqueur
10 cubes of authentic marzipan
10 classic chocolates
Student oats milk/dark/white
Orangettes pure
Traditionally roasted hazelnuts covered with milk chocolate
Elisettes XL
With Valentine's Day and Easter there is the possibility to apply the same concept to hearts and eggs.
INTERESTED?
For more information, contact:
administratie@chocelise.be
Phone: 0032 (3) 707 04 90
Contact person: Dorine De Paepe
With our "Créateur Chocolatier", we try to meet more and better the specific requirements of our various customers. New flavours, new textures, new concepts … impose themselves. At Confiserie Elise we strongly believe in the importance and necessity of innovation. Below you will find our most recent innovations
Elisettes® Selection
A range expansion with 4 fine fillings:
Raspberry – apricot – salted caramel and praline.
100% palm oil free truffles with minus 75% cocoa chocolate and this in 2 varieties:
either powdered with cocoa or with flakes.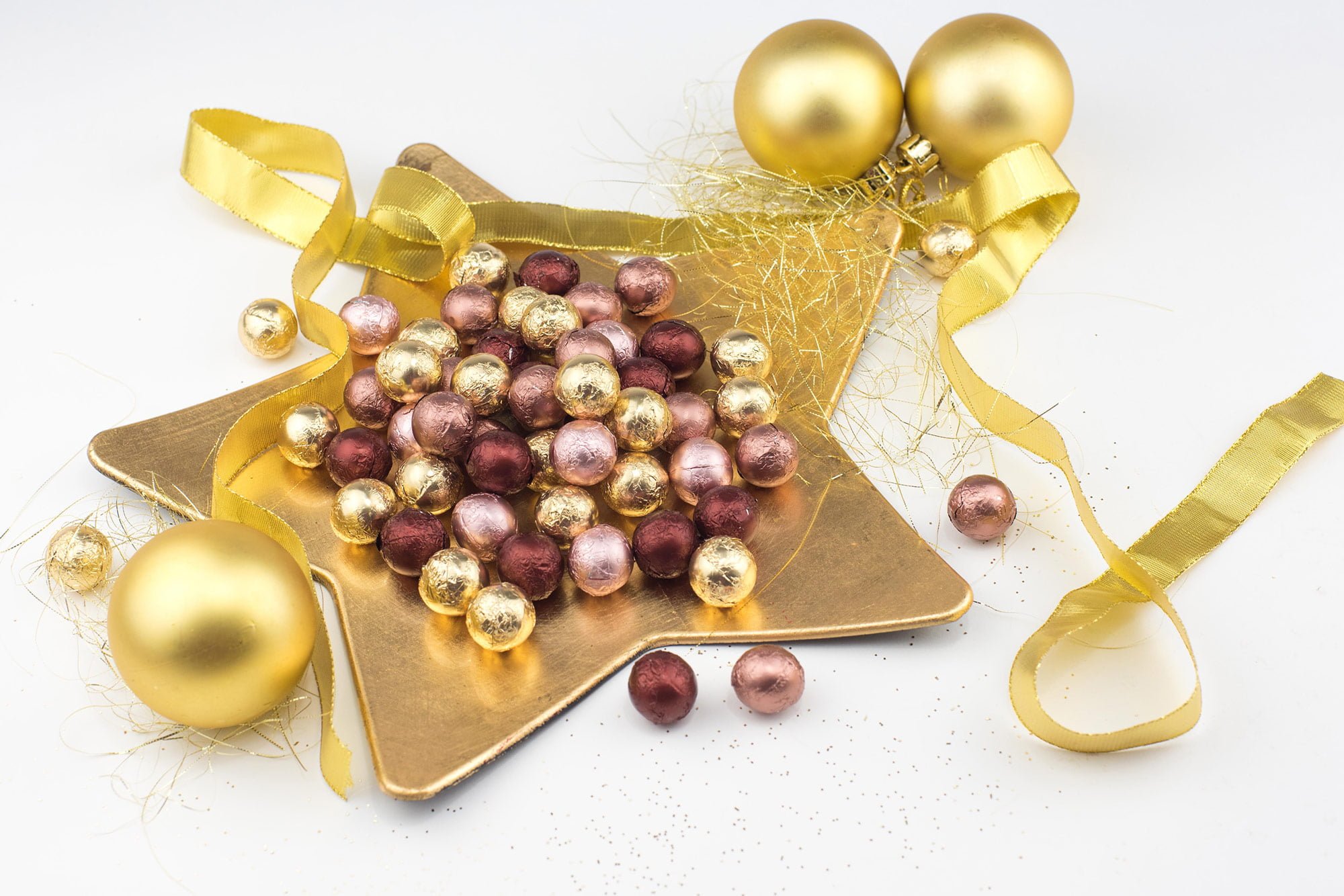 Christmas balls
To cheer up the end of the year, we would like to introduce our colourful – filled or unfilled – chocolate balls. For Christmas they are wrapped in carmine red (praline pure) and forest green (milk chocolate), for New Year in gold (praline milk), silver (nougat milk) and/or bronze (praline crispy dark chocolate).
LovUbox
An exclusive box of fondant and milk chocolate hearts filled with praline, caramel and raspberry. A box "for all seasons", to please family and friends all year round.
Fruit truffles
3 New and exclusive flavours add to the range of fruit truffles: green apple with milk chocolate, blackcurrant/cassis with white chocolate and sweet fig with dark chocolate
Elisettes
The Elisettes range is a new range of high quality, thin chocolates combined with (unexpected) tasty ingredients. These are lightly salted seaweed (Nori) either artisanal caramel filling with salt or with bresilien nuts, …
The current three types are available in either dark chocolate (70% cocoa) or milk chocolate. They are either packed in bulk in 1kg boxes or in 190g consumer packaging.